Every Tuesday night is debating night! At 5.45 PM. the first members gather in the Refter to have diner together , and at 6.45 PM we start debating in E3.01. We usually do one BP and one AP debate on an evening, but one of these debates are regualrly replaced by a training to develop more skills or about a new topic. The first Tuesday of the month is always an English evening, which means that all the debates will be held in English. On the other evenings, we try to create one English room with the people that want to debate in English.
Fifteen minutes before starting the debate, the motion and composition of the teams are announced. Everyone gets to hear in which team they are, whether they have to attack or defend the motion, and who the judges are. The teams have 15 minutes to prepare, and then the debate can begin!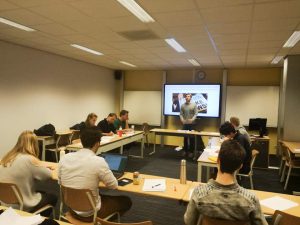 After the debate, the judges presents the results of the debates. They do not only annouce who won, but also give feedback to improve your debating skills.  After two rounds of debating, we head to de Kluizenaar for a drink, often accompanied by fun discussion or good conversations. Of course, nothing is compulsory: it's also possible to do just one debate, and we also have members that only show up for the drinks in de Kluizenaar! 
You'll get an even better improssion of what we do and what debating entails if you attend one of our debating nights. Are you interested? You are welcome to join! You can simply show up on Tuesdays, or contact us beforehand.
"I have always liked discussing and debating. On my first night, I immediately had to speak in front of a crowd. I used to think this was scary, but everyone was so supportive that it wasn't scary at all!

I am a Trivium member since September, and I like it a lot. I conquered my fears to speak in front of a crowd, and I learned building my argument in a convincing way. Trivium is also a very sociable society. Everyone is very kind and supportive, and the other members support me and compliment me when I did well in a debate.

The motions for the debates encourage you to think critically, get you out of your comfort zone sometimes and lead to interesting, creative and challenging debates. Being a member of Trivium really added something to my life, and I enjoyed everything so far!  I am looking forward to participate in more tournaments and learning new skills from my fellow members."

Gabriela about her first months as a Trivium member